Looking for Not So Basic Burger Recipes?  A well made burger is a thing of beauty, but have you ever wanted to spice it up and try a different kind of burger?  Custom burger restaurants are popping up all over the country and they are serving up interesting a delicious creations.  Here are 13 burgers that are different for those times when you feel a little adventurous!  We threw a turkey and chicken burger on for good measure.
13 Interesting and Not So Basic Burger Recipes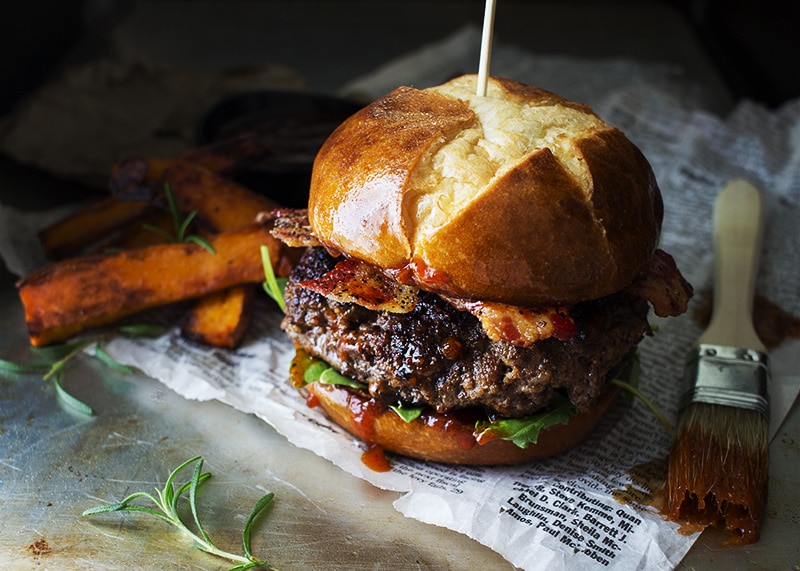 Coffee Rubbed Burgers with Dr Pepper Sauce | The Chunky Chef
These coffee rubbed, savory Angus beef burgers, rubbed with a rich and flavorful coffee seasoning mix, paired with peppered bacon and a completely delicious homemade Dr Pepper BBQ sauce!
Bacon wrapped Pineapple Burger | TipHero
Why just put bacon, pineapple, and BBQ sauce on top of your burger when you can roll all of those flavors up into one incredible bacon-wrapped package? (After all, you know what they say: "Good things come in bacon-wrapped packages.")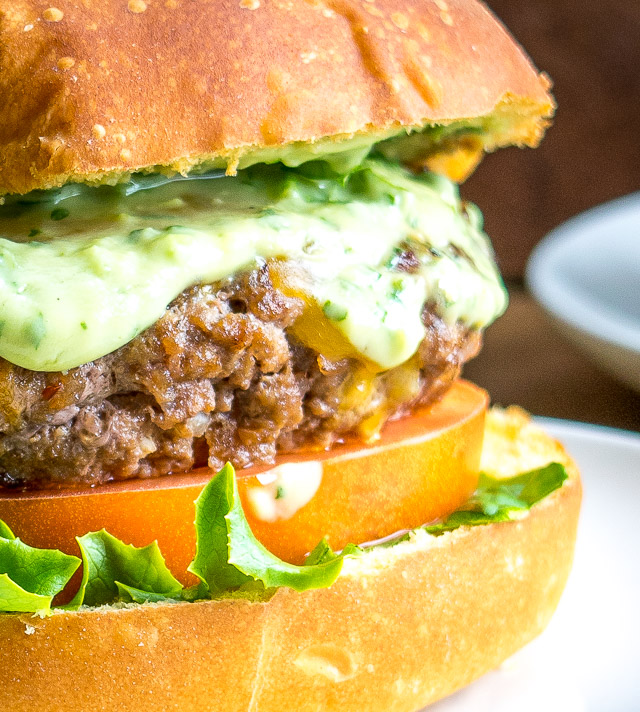 Spicy Chipotle Burgers with Creamy Avocado Sauce | Mexican Please
Yum! There's something about the smoky flavor of chipotles that seems to pair effortlessly with grilled beef.  And while the Creamy Avocado Sauce may look like the star in these pics, it's really the invisible chipotles that make the recipe work.
Biscuits and Gravy Burgers | Oh Bite It
If you love Biscuits and Gravy..if you love a thick, juicy Burger..you will double love these babies!  Make it SUPER special with a fried Egg on top…Oh yeahh!
Asian Burgers with Sriracha Mayo | Chew Out Loud
If you're looking to spice up your burger routine, look no further. These Asian Burgers with Sriracha Mayo are unbelievably delicious! Elevate your burger.
Mac & Cheese Stuffed Cheeseburger | Ashlee Marie
Do you love burgers?  Do you love Mac and Cheese?  Then check out this stuffed burger with a delicious comfort food stuffed inside. The burger stuffed with homemade mac and cheese is amazing, and it balances so well with the slightly sweet brioche bun and the sweet caramelized onions and pepper.
Irish Stout Salisbury Steak Burgers | Food and Everything
Salisbury steak on a bun with onions and brown gravy, mmmmm! Really simple to make but will still wow your guests.
Feta Jalapeno Stuffed Burger | The Classy Chapter
This feta jalapeno stuffed burger is loaded with flavor. Not only is there feta and jalapeno's in it but bacon as well.
Turkey Peanut Butter Bacon Burger | Brooklyn Farm Girl
You are going to love this easy to make healthy turkey burger that's made with peanut butter! Who knew peanut butter in a burger could be so good? But then again, doesn't peanut butter make everything better?
Pepper Jack Whiskey Burger | Plain Chicken
Pepper Jack Whiskey Burgers – seriously delicious! Ground beef, garlic salt, Worcestershire sauce, chili powder and a shot of whiskey. Top with sliced pepper jack cheese.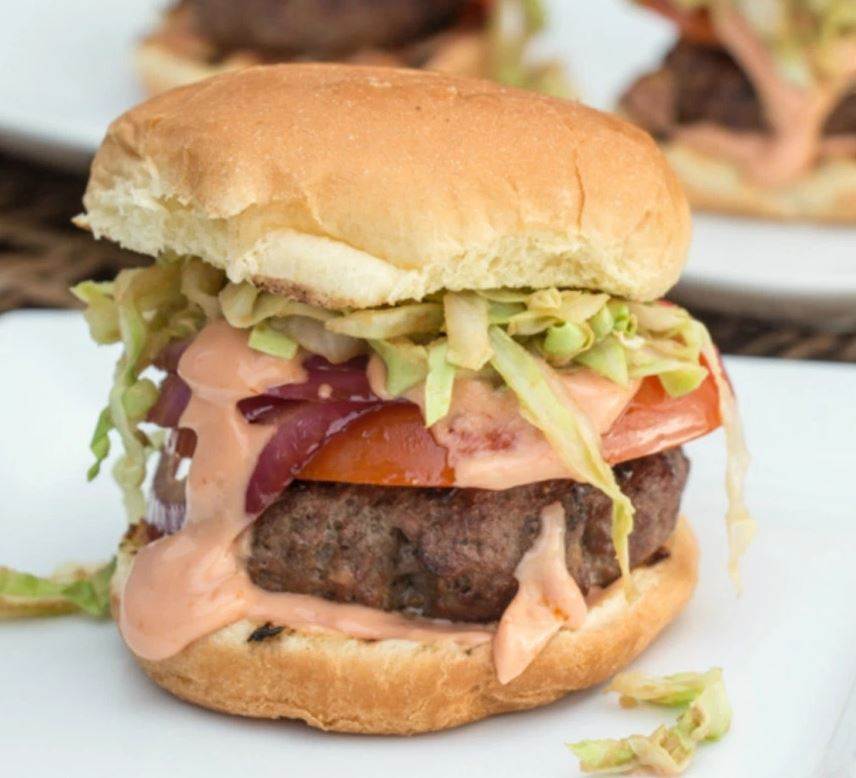 Dominican Chimichurri Burgers | Sew You Think You Can Cook
This is a popular take on street food from the Dominican Republic. The "chimi" is quite a popular street food burger.
Peppercorn Blue Cheese Burgers with Cherry Sauce | Strawberry Blondie Kitchen
These Peppercorn Blue Cheese Burgers with Cherry Sauce are an explosion of amazing flavors. From the peppercorn crusted patty, the sharp blue cheese, tangy dijon mustard, spicy arugula and the sweet cherry sauce, it's an all around winning combo you must devour ASAP!
Peri Peri Chicken Burger | RecipeTin Eats
 If you've never tried Nando's before, you are in for a treat if you try this. The marinade is incredible!  The homemade Nando's Peri Peri sauce is a copycat that tastes remarkably similar! It's made with fresh red chillies, capsicum/bell pepper (this is the "secret" ingredient), garlic, vinegar, oil plus herbs and spices (paprika, oregano, onion, sugar, salt, pepper)
Ok so while we are talking burgers…. what's the best burger you've ever ate?
With Love,