Best Ever Ground Beef Taco Queso Dip
Ground beef taco queso dip is one of the best Mexican-inspired appetizers you will ever have. The perfect mix of savory and cheesy, this dip is always a hit at parties. It is easy to make and can be tailored to your liking. All you need is ground beef, cheese, and a few simple seasonings.
What is Queso?
Queso (keh-soh) is a smooth, melted cheese dip that is popular in Mexican cuisine. It can be made with a variety of cheeses, and often includes chilies, tomatoes, and onions. Queso can be eaten as a dip with chips or bread, or used as a condiment for tacos or enchiladas.
I love Mexican food and I love cheese so this taco dip is one of my all time favorites. I have made it a many parties and get-togethers and it's always a hit. In fact, some people only attend the parties just to eat the dip!
I know there are tons of different ground beef queso dips on the internet but this one really can be considered the "best ever". It has the perfect amount of spice without upsetting anyone. It is so cheesy and delicious you won't be able to stop eating it. Plus it is super easy to make. Just grab your ingredients and dump then in a crock pot and enjoy.
This dip is really easy and uses just a few pre-made ingredients. You can easily double the recipe for larger crowds. When you taste it, you won't believe how good it is. We also use this dip on top of hot dogs.
I have used several different brands of Taco seasoning and it's always tasted great, but I always use the Tostito's brand queso cheese. They are sold almost everywhere so you should have no trouble finding them. I get the 3 packs at my local Bj's club.
How to make Ground Beef Taco Queso Dip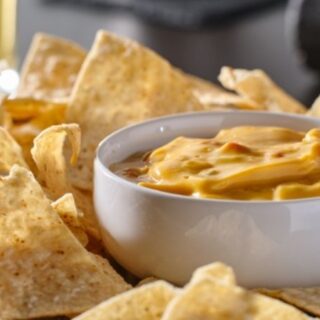 Best Ever Ground Beef Taco Queso Dip
Ingredients
2 lbs ground beef
2 packets taco seasoning
2 jars Tostitos Salsa con Queso (medium)
1 bag Chips of your Choice
Instructions
Brown ground beef in pan until no longer pink
Drain beef and add to crock pot
Add jars of cheese and taco seasoning packets
Turn crock pot on low until dip is heated, then switch to warm
Notes
You can add extra spice if you like it spicy!
Nutrition Information:
Serving Size:

1 grams
Amount Per Serving:
Unsaturated Fat:

0g
Queso Dip Tips
Use a crock pot to keep your dip warm. Just combine all the ingredients in a crock pot and keep on the low or warm setting.
This recipe can easily be doubled or tripled for larger gatherings. If you have leftovers, store them in the fridge in an airtight container. The dip will keep for up to three days.
If you try this dip please come back and let me know how you liked it!