Making frozen chicken thighs in your ninja foodi.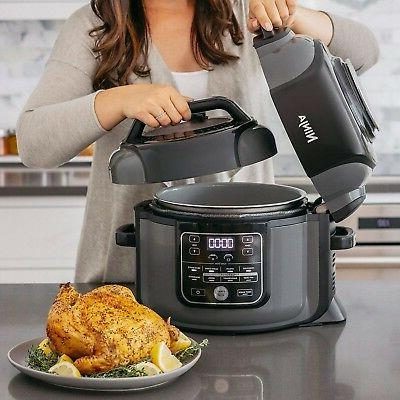 What is the Ninja Foodi?
The Ninja Foodi is an awesome machine. It is a pressure cooker with an air fryer built in so you can get the benefits of both machines in one!
They call it "Tendercrisp" and it allows you to quickly cook ingredients, then the Crisping Lid gives your meals a crispy, golden finish. It really is nice having just one machine that can do everything!
You can learn more about it at this link.
Ninja Foodi Frozen Chicken Thighs
This recipe for Frozen Chicken Thighs in the Ninja Foodi is so easy and so delicious. It starts off with a pressure cook to make it moist and tasty, and then finishes off with an air crisp to make the skin crispy. You won't believe how fast you can have dinner on the table, even if your chicken is frozen.
The beauty of this recipe is that you can season your chicken any way YOU want. You can make it with sweet and sticky barbecue sauce, plain old salt and pepper, or any flavors you like. I used my go-to chicken seasoning which consists of salt, pepper, paprika, and garlic powder. There are a zillion ways you can flavor your chicken so it never gets boring!
How to Make Frozen Chicken Thighs in your Foodi
First, you will want to add your frozen chicken to the foodi's fryer basket. Because we plan to air fry them after we pressure cook them, we want to use the basket so there's less to clean! I'm making 3 thighs but you can make more or less. You don't want to cram them, but it's okay to stack them a little bit.
Next, dump in 1 cup of water into the bottom. You don't need to add anything else or use any seasonings right now, we will do that later.
Now, you want to put on the pressure cooking lid and make sure the steam vent is closed. Set the pressure to HIGH and set the timer for 15 minutes. It will take a few minutes to pressurize, depending on how much chicken is inside. When it is done cooking… release the steam and remove the pressure cooking lid.
Now is the time you want to season your chicken. You can use anything you like. It can be as simple as just salt and pepper, or something more like barbecue sauce. I used my go-to spice mixture which consists of salt, pepper, onion, garlic, and paprika.
Now your going to shut the air frying lid and set the temp to 400 degrees. It takes anywhere from 10-15 minutes depending on the size of your chicken thighs. Mine took about 10 minutes to crisp up and register an internal temperature of 165 degrees.
As you can see, the air fryer part of the Foodi is awesome for making the skin crispy and delicious. And because we pressure cooked it first, the inside was super moist and perfectly cooked. This recipe is so easy and you could switch it up by just using different seasonings.
Ninja Foodi Frozen Chicken Thighs
Easily make frozen chicken thighs in your Ninja Foodi machine.
Ingredients
2-3

Frozen Chicken Thighs

1

cup

Water

1

TSP

Seasoning of your Choice
Instructions
Add frozen chicken thighs to the Ninja Foodi in the fryer basket

Pressure cook on High for 15 minutes and then quick release the steam

Season the chicken and then air fry until the internal temperature reaches 165 (10-15 minutes)